2020 has seen seismic changes to the way we live and work, as we wage war with COVID-19. And now, as workplaces around the world sit empty, business leaders and buildings owners are frantically searching for answers. How can we safely reopen these spaces, while keeping our employees safe from the spread of this deadly virus?
"The COVID-19 pandemic has seen a mass exodus from the workplace, as those who can work remotely continue to hole up at home," says Anjanette Green. "But human psychology means we look to the built environment for protection. More than ever, the buildings where we work and live need to be safe havens. We need to start treating all of the spaces we use like they are places of respite."
"Human psychology means we look to the built environment for protection"
Nobody could have predicted the catastrophic events of 2020, but since news of the pandemic started to spread back in January, Green has been working flat out. A pioneer in the green buildings field, she is part of an elite group of specialists focusing on air quality and how we can create safer spaces by continuously monitoring our indoor air.
"Nine months on, here we are on the top of a mountain with a small group of experts, trying to figure this out on a global stage," she tells Work in Mind. "Nobody is more fit to write about air quality than we are. The team at RESET has been in the trenches since 2007, working with project teams in some of the world's most polluted regions. As a result of that deep knowledge, we are uniquely positioned to delve into the complexities of an airborne pathogen and leveraging building science to help solve this problem.
"Here we are on the top of a mountain with a small group of experts, trying to figure this out on a global stage"
"The adage, 'you can't manage what you can't measure' couldn't ring more true in the case of indoor air quality. If you don't have any idea what your building is doing, then how can you measure any success if you implement remediation plans? Projects that have historical data and knowledge of how their buildings operate are lightyears ahead of those who don't. It's never been more critical for buildings to have a baseline from which they can begin the process of indoor air cleaning measures."
Viral survivability
Green is the Director of Standards Development at RESET, the world's first sensor-based and performance-driven data standard and certification program for the built environment. The RESET Air standard outlines requirements for data quality, completeness and performance so that landlords and building managers can collect real-time data and continuously monitor fluctuations in their buildings.  The upshot? Having robust data allows for immediate responses and adjustments; whether it be to a building's mechanical system or to suggest changes in occupant behaviour in order to create a healthier building.
"We are specialists in a unique field," explains Green, who has spent her career at the forefront of building and product certifications, materials research and indoor air quality. "RESET recently launched an additional tool; the RESET Index, which is the product of six-months of intensive efforts by our team to review the body of research on viral survivability and human immunity and translate the findings to be applicable to the built environment. To put it simply, the Index is using the data as collected and reported from monitors, to discern if conditions might be ripe for viral survivability.
"While great research has been done to estimate how much of the virus people may need to be exposed to before they become infected, we need to look at the building itself too. It's all very well knowing how quickly someone might become infected in a populated space, but are you monitoring the health of that space itself? What is good for people may not be good for the building. Solutions to this current situation are nuanced and need to be evaluated on a building-by-building basis. The sooner we realise there is no silver bullet or singular approach, the better off we will be."
Preventative measures
As Green says, it's now more important than ever that we understand our buildings. And that means continuously monitoring the systems that deliver, distribute and extract the air.
"When it comes to healthier buildings, if you don't have a baseline to start from, you don't know how to fix it," she explains. "We talk to people who don't know where their main air intake is or understand their HVAC system. Of course, now everybody is hyper-concerned about this, but if they'd been doing continuous monitoring they would already understand. You have to know your system to know what your capabilities are, what your data is telling you, whether it's reliable and how to remedy problematic air quality issues.
"For example, if you are continuously monitoring your air quality, you will already know how to adapt your office to better control the ventilation. You can then start overlapping multiple preventative measures to protect people, such as masks and ventilation. Everyone needs to have their own toolkit, so they can work out the solution that's best for them. Now, more than ever it's essential we all think about preventative, instead of reactive, care."
Evaluating infection potential
Currently there is no continuous air quality monitor that can detect the virus itself.
"The virus is too small, no continuous monitoring sensor  can do that," says Green. "But we do have technology that can measure other indoor air parameters, which helps us understand infection potential. Air quality monitors do enable you to deduce whether a space has conditions that are hospitable for viral survivability and whether it would be beneficial to implement some type of remediation plan. The five parameters we look at are temperature, humidity, Co2 levels, particulate and TVOCs (Total Volatile Organic Compounds). These all have a role to play in this pandemic.
"Temperature and humidity have become the darlings of this crisis as there is a body of evidence that connects virus survivability with cool, dry temperatures. Viruses tend to prefer cold and dry conditions– that's why scientists put them in freezers to maintain them. At the same time, the opposite is true for the human immune system; it doesn't perform at its best if exposed to prolonged cold, dry conditions. For example, sitting in a dry office space for eight hours a day, every day, is likely going to challenge your mucociliary function. Your nose and mucous membranes are going to be too dry and that might just open the door for infection."
A need for fresh air
Unventilated air also has a huge role to play in the viral Index.
"Co2 is a sign of stagnant air that has been expired from people's mouths and lungs," she explains. "It's an indication as to whether you are getting enough fresh air into your space. By proxy, Co2 levels can alert us to over-crowded spaces with too little outdoor or cleaned air. If people are sick, one can deduce that there are virus particles in there too."
But while adequate ventilation is essential, Green advises caution. This isn't simply a case of throwing the windows wide open. In reality, many areas are riddled with particulate matter (PM), specifically PM2.5, which is of particular concern. These tiny, yet lethal particles that can enter deep into our lungs and pass through cell walls to do all manner of harm. Emitted from factories, vehicles, aeroplanes, dust storms and fires, they are 30 times narrower than a human hair and invisible to the naked eye.
Worryingly, research links both long and short-term exposure to PM2.5 to a higher incidence of death from COVID-19. Not only does it weaken the immune response, reducing the body's ability to fight viruses, but populations exposed to high levels of PM2.5 are also more prone to developing chronic respiratory diseases.[i]
"Blanket statements are dangerous," says Green. "You are asking people to open the doors and windows in areas where the outdoor air is so polluted, it isn't safe. Entire populations could become more susceptible to mortality from the virus because they are being exposed to PM2.5.
"Organisations are telling people to open their doors and windows and run their HVAC systems on 100% outdoor air, but you cannot simply open a window to solve a problem. If taken out of context, simply creating air flows with no air recycling, might serve to actually encourage the virus to mix and spread within a space.
"What really needs to be done is to extract the air using the proper air change rates (ACH) and/or the proper clean air delivery rates (CADR). These calculations have been created by experts and are available for anyone to review and apply. But, again, you need to know some basics about your building; is it naturally ventilated or does it have a mechanical system? Do you understand how, or if, it is pressurised? Does it have a cleaning or filtration system in place? What kind? Is the air effectively passing through it?"
Exposure to VOCs
Of course, it isn't just COVID-19 itself that is jeopardising our health – the virus has triggered indirect risks and consequences too. It led to a hike in indoor air pollution within our homes. And this was partly because we were cooking and cleaning more than ever within a confined space.
Now, as we figure out how we can safely return to the workplace, we need to be mindful that our enhanced, COVID-secure cleaning regimen may have an impact on the air we breathe there too. For example, Volatile Organic Compounds (VOCs) are released by many of the products surrounding us day-to-day, including some cleaning solutions. High levels of VOC exposure has been linked to nausea, dizziness and even concentration issues. One study by the Harvard School of Public Health even suggested a 13% decrease in productivity for every 500μg/m3 increase in VOC.
"We are all washing our hands and hyper-cleaning our surfaces, and in some cases those staff who are responsible for cleaning are potentially being exposed to a new quantity of VOC's," says Green. "And while cleaning used to happen after the building was closed, when occupants had vacated the premises, we are now literally wiping down surfaces on top of people.
"But by continuously monitoring the levels of TVOCs in a space, we can alert ourselves when we may be putting the occupants in a more precarious position. The last thing we want to do is increase our exposure to harmful VOCs, and monitoring will tell us when the levels are high and require further inspection. It could be something benign, like alcohol evaporating quickly from hand sanitiser, and that might not be a problem. But if it's a VOC from industrial cleaners that contain chemicals of concern, which are accumulating in enclosed spaces, then that might need attention.
"We need to see this as an opportunity for businesses to protect their occupants, maintenance and cleaning staff, as well as educating them about what cleaning products to use."
The future of the workspace
So, as we try to work out how to give our employees peace of mind, what does the future of the workplace look like? Of course, it's highly likely that those occupying a space – whether an office, restaurant or shop ­– will demand transparency, so they know the air quality is being closely monitored and controlled.
"People will want the buildings they inhabit to support their wellbeing more than ever before," says Green. "That's not a nice-to-have, it's a must-have. Life as we know it has changed, and the spaces we inhabit need to prioritise our health and wellbeing.
"I'm not talking about yoga classes or hanging inspiring art on the wall here, I'm talking about real changes that will fundamentally help people remain safe. And this isn't just about COVID-19, because there will be more emergencies in the future – perhaps another pandemic, smoke from raging wildfires or increased air pollution caused by global warming.
"Increasingly, we will rely on our buildings to protect us, and that means we need to start using building data to drive our course of action and create better, more holistic reactions, no matter what the event. This is a complex situation, which requires a complex response."
---
Anjanette Green has over 17 years of experience in architecture and design, advising on single and multi-attribute building and material certification projects across the globe. As director and co-author of RESET, she is spearheading the world's first and only certification program focused solely on Indoor Air Quality (IAQ). She has authored and contributed to HPDs, EPDs, Living Products, numerous Declare labels, international PCRs and has served on USGBC's LEED IAQ WG and the WELL Air & Thermal Comfort advisory group. In 2018 she received the Living Building Challenge's prestigious Hero Award for her contributions to the International Living Building Institute.
Featured Photo by Simone Hutsch on Unsplash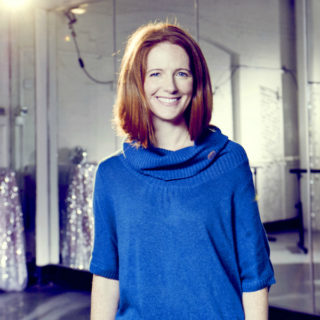 Sophie Barton is our Features Editor. She a journalist and editor with 20 years' experience in the national media, specialising in wellbeing and lifestyle.