It's now four years since we launched Work in Mind, and what a journey it has been. Our platform started as a passionate social purpose project, but now has readers stretching across five continents, all eager to join us on our deep-dive into the connection between the workplace and wellbeing.
From exclusive interviews with the world's most acclaimed healthy buildings experts to practical advice from pioneering wellbeing gurus like podcast host and radio presenter Dr Rangan Chatterjee, we've informed and educated thousands of readers across the globe.
Perhaps most importantly, we've connected people and become a powerful force for change. And all as a non-profit enterprise – Work in Mind is supported by my agency Content Coms, which provides award-winning content for businesses delivering a greener, healthier and more sustainable future.
Seismic shifts
Of course, the past four years have also seen unprecedented global events. We've ridden-out the COVID-19 pandemic, and few of us remain untouched by the enormous impact it has had on the way we work and our wellbeing. But there have been positive shifts too. Importantly, the conversation is finally changing around sustainability, and ESG [Environmental, Social and Governance] is rapidly dominating the agenda in business.
At Work in Mind HQ, we are embracing this change with open arms. And now, as we enter our fifth year, we look forward to sharpening our ESG focus even further. After all, ESG underpins our fundamental ethos – a corporation's impact on society and the environment is inextricably linked to the wellbeing of those who work for that business.
At Work in Mind, our mission is to shape people's understanding of how their environment influences not only personal wellbeing, but the wellbeing of the planet too. And if we want people and the planet to thrive, we need to invest in healthier workplaces, which are socially-focused, sustainable and designed to nourish.
A war for talent
Make no mistake, this isn't some fluffy nice-to-have. In light of the Great Resignation, ESG has never been more important. Research by BUPA reveals that almost a third of employees (31%) would reject jobs in businesses with poor ESG credentials. And over half (54%) would accept lower wages to work for a company that reflects their ethics. The battle for talent is at its absolute sharpest, and strong environmental and social credentials help an employer stand out in a crowded market.
ESG matters, and this isn't going to change. In fact, we see how vital it is becoming on a daily basis at Content Coms, where we work with businesses to deliver purpose-led projects and consultancy centred around ESG.
And so, as we enter our fifth year at Work in Mind, we'll be upping the ante on our mission to help our readers connect the dots between the workplace, the people using that space and the world at large.
After all, every piece of content on our platform has the opportunity to influence wellbeing, health, performance, productivity and retention. Whether it's a thought-provoking discussion about the WELL Building Standard, the latest research on how ventilation systems can mitigate COVID or stress-busting tips and tricks, we are proud to be making a difference. As Winston Churchill famously said, "We shape our buildings: thereafter they shape us."
---
If you are looking for content and expertise that communicates your passion for healthier, better buildings and human-centric design, let's talk.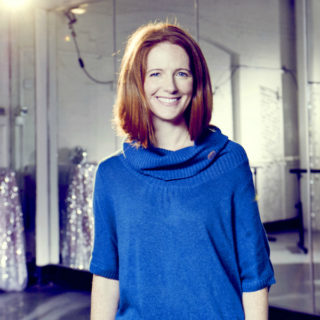 Sophie Barton is our Features Editor. She a journalist and editor with 20 years' experience in the national media, specialising in wellbeing and lifestyle.