Storey, British Land's flexible workspace company, has upped its emphasis on sustainability with its latest East London development. Designed by leading practice, Waugh Thistleton Architects, 6 Orsman Road is aligned to the core principles of reduce, reuse, recycle.
Waugh Thistleton Architects has an international reputation in environmentally sustainable design, pioneering the use of cross laminated timber at height. And here at 6 Orsman Road, the building's core internal walls and floor slabs are made from pre-cut CLT panels.
The CLT is also exposed internally, minimising the number of finishes used on the structure. And in the spirit of recycling, offcuts from the building have been repurposed and used to make furniture.
A sustainable solution
"We're passionate about cross laminated timber and its potential in buildings, both for sustainability and health benefits," explains Andrew Waugh, the architect behind 6 Orsman Road. "It's at the heart of all our projects.
"A CLT structure offers a multitude of benefits with regard to the building's impact on the environment. In comparison to concrete and steel, the production of CLT requires a smaller amount of water and energy (and therefore fossil fuels) to manufacture."
Nature's carbon store
And of course, sustainably-sourced timber also puts less pressure on the world's fragile natural resources.
"As a tree grows, it absorbs CO2 and releases oxygen through photosynthesis; timber is nature's carbon store," says Waugh. "In fact, CLT has a lower embodied energy per weight than any other structural building material."
Acoustic benefits
Not only is wood a key component of the burgeoning biophilic design movement, thanks to its calming qualities, but timber surfaces and panels also absorb sound and improve comfort. At 6 Orsman Road, Storey worked with leading acousticians Sandy Brown to develop acoustics guidelines for the offices, shared spaces and meeting rooms, ensuring productivity isn't affected by noise.
"Timber contributes to thermal and acoustic insulation and has health and wellbeing benefits," adds Waugh. "Companies with timber interiors report higher levels of staff retention, greater levels of productivity and lower levels of sickness. The use of wood also has a beneficial effect on air quality through moderating levels of humidity, absorbing moisture in humid conditions and releasing moisture in dry conditions."
Designing for wellbeing
In keeping with biophilic design principles, all-natural materials have also been used throughout 6 Orsman Road, including clay finishes, marmoleum tiles and natural fabrics. Combined with daylighting and air-purifying plants, the overall effect is a working environment that actively boosts performance and wellbeing.
To enhance the sustainability of the building, 6 Orsman Road will also have photovoltaic cells on the roof. The rooftop terrace has been designed by landscaper FFLO and is biodiverse, featuring a brown roof, insect boxes, edible plants and fruit trees. And as with all Storey buildings, 6 Orsman Road is committed to achieving 0% waste to landfill from day one.
Internally, the flexible workspace includes private offices, as well as shared spaces. Common areas include soft seating areas, meeting rooms and an outdoor terrace space, as well as a café with locally sourced, healthy food. There private and shared terraces too, with city views, and cycle and shower facilities.
Andrew Waugh says, "I love the concept of Storey 6 Orsman Road; that good design can boost health and happiness – and benefit the planet. It demonstrates how good architecture and design are instrumental to the evolution of workspace as we know it." 
To find more on reduce, reuse, recycle, then click here. 
---
Storey provides personalised working environments for ambitious businesses in great locations. Find out more at www.storey.co.uk.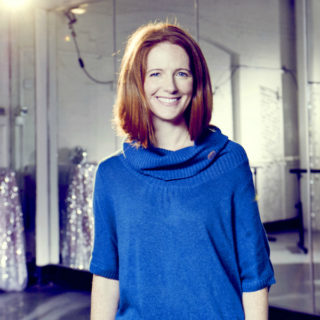 Sophie Barton is our Features Editor. She a journalist and editor with 20 years' experience in the national media, specialising in wellbeing and lifestyle.