Every woman experiences it, yet the menopause is an age-old workplace taboo. For decades it has been joked about or discussed in hushed tones, for fear it might cause awkwardness, embarrassment or even shame.
But the number of employee tribunals citing menopause has almost quadrupled since 2018, and experts are now warning companies to increase support, or risk the threat of potential legal action. Women are taking a stand, and it's not a moment too soon.
In October, an alarming poll of 3,800 women exposed the truly devastating impact that crippling menopause symptoms are having on women's careers. The research, by leading menopause specialist Dr Louise Newson, revealed that 99% said their perimenopausal or menopausal symptoms had negatively impacted their careers, while 59% of participants had taken time off work due to their symptoms. Of that 59%, 18% were off work for over eight weeks.
"The impact of the perimenopause and menopause in the workplace is huge and often underestimated," Dr Newson tells Work in Mind. "So many women I see and speak to have either reduced their hours or given up their jobs, while others have changed theirs for something less demanding. Yet menopause and perimenopause are still taboos in many workplaces and women are often worried about talking about their menopausal symptoms, for fear of being incorrectly judged."
Debilitating symptoms
Dr Newson adds that the symptoms most likely to affect women in the workplace include anxiety, memory problems and fatigue.
"Many women are wrongly diagnosed with anxiety and depression," she explains. But their sick notes often don't reflect the true cause of their absence from work, which is the perimenopause or menopause.
"Symptoms vary between women, but it is often the psychological impact of the menopause that affects people the most. Many women find that their memory is affected, and they experience brain fog. Reduced motivation, low stamina, feelings of low self-esteem and reduced self-worth are common too, in addition to physical symptoms like hot flushes, palpitations, headaches, muscle and joint pains and urinary symptoms. These all contribute to difficulty working."
Devastating consequences
And the consequences can be catastrophic. Dr Newson's research revealed that half the respondents had resigned or taken early retirement due to their perimenopause or menopause. Meanwhile, according to figures from the Office of National Statistics, suicide rates in women aged 45 to 54 (the most common age for perimenopause and menopause) have risen 6% in 20 years.
It's a sobering picture, one which prominent figures including the Countess of Wessex are fighting to change. The royal recently called it "tragic" that women were having to leave the workplace because of the menopause. Yet help is often scarce – 60% of women involved in Dr Newson's research said their workplace offered no menopause support.
"The most important part of the menopause in the workplace is recognising it and enabling women to be signposted to receive the right help, support and treatment," says Dr Newson. But what else can be done? Can our workplaces be designed to better support women? Sarah Syson believes it can. She is associate director of design at Claremont office interior designers, and recently won a coveted Rising Star award from the British Council of Offices.
"We can absolutely design workplaces so they support women going through the menopause," says Sarah. "Ultimately, this is all about equality in the workplace. Landlords, employers and designers should all have the menopause on their agenda – we should be prioritising it."
Design that empowers
Sarah believes one key element is the introduction of workplace 'pods,' where employees can retreat when they need a quiet, focused space. Not only do they provide a refuge from the office hubbub, but they enable users to control their own thermal comfort and lighting.
"Having autonomy over your temperature and lighting is so important, particularly for women going through the menopause," Sarah explains. "If a member of staff is feeling light sensitive, she can dim the lux levels, and if she is having a hot flush, she can create a cooler space. It gives her the chance to regulate her temperature, without throwing open the window, and worrying that she's inconveniencing her colleagues.
"Ultimately, it's all about creating layered spaces that flex to everybody's needs. If women know they'll have an element of control over their environment, they'll feel reassured that they can still go into the office."
Alleviating anxiety
Of course, reassurance has become even more vital since the pandemic, when many women have appreciated the privacy and flexibility that comes with working from home.
"Symptoms like headaches, hot flushes and flooding are often easier to deal with if you're working from home," says psychotherapist Dee Murray, CEO of Menopause Experts Group. "The menopause can cause heightened anxiety too and, after months of working from home, many women feel very worried about returning to the workplace. It can be a difficult and quite frightening prospect.
"But there are simple, practical things that would change a woman's day, such as having free sanitary ware in the bathrooms, and ensuring everyone has easy access to cool, fresh drinking water. In an open plan office, just a desk fan can help, or being given the opportunity to work near the door, where you might enjoy a breeze."
Sarah Syson agrees that workplace design needs to work harder than ever to alleviate anxiety.
"We are increasingly using the term 'resimercial' instead of commercial, because we are adding more residential settings into workspaces," explains Sarah. "It's about offering softer, comforting spaces to work in, as well as a traditional desks. Employees appreciate hybrid workspaces, because they have become comfortable working from home."
Creating calm with colour
Calming colour schemes can help too. "Stark, contrasting colours can be overly stimulating, which can add to anxiety," says Sarah. "We tend to opt for neutral shades, such as muted greens, then soften the environment by adding in elements of biophilia, which have a calming effect. Of course, it's important to include a brand's colours too, but it's all about balance."
Textured fabrics also up the comfort factor, while giving a soothing effect. "We tend to include textured fabrics in lounge areas or wellbeing rooms," says Sarah. "If someone is anxious about a difficult conversation with a manager or colleague, their tactile nature offers a welcome distraction."
Soothing spaces
Sarah firmly believes that female-specific wellbeing spaces are also important. She says, "Traditionally you might have a first aid room in a workplace, which could double up as a prayer room and private space for someone who needs time alone. But going forward, it's important that those rooms are separated into their own spaces, so women have a private retreat if needed."
The location of these wellbeing rooms is vitally important too. They have often been positioned in the centre of the office, but Sarah believes this is "a huge design flaw".
"The lack of privacy meant people wouldn't use them if they wanted a quiet, calming space, or even somewhere they could just have a cry," she explains. "Instead, we now position wellbeing rooms near the entrance, which is particularly helpful if someone finds the journey into work stressful. They can go straight to a quiet, soothing space before they have to sit at their desk."
Toilets are a common point of contention too. Lack of access to facilities can cause embarrassment and distress at any time, and this is exacerbated during the menopause. "We need full height walls and doors between toilets – it can't be cubicle dividers," says Sarah. "In my opinion, each toilet cubicle should be its own room, with a toilet, sink and mirror."
Reaping the rewards
Of course, all these measures won't just support women going through the menopause – they will benefit every employee. But bearing in mind that women make up 47.7% of the global workforce, investing in their wellbeing will doubtless pay dividends.
Dee Murray adds, "Any business can put a menopause policy in place, but that's just a written piece of paper. You need to be able to follow that up, and do things that are very practical for women. It costs a fortune to recruit staff, and companies are losing millions in sick days because women would rather call in sick than explain that they are having a terrible time. But by showing compassion you'll retain good staff with invaluable experience, and attract the right people too. It has a massive monetary value. After all, you can't leave your menopause at home – it goes to work with you."
Keep up to date with Dr Louise Newson on Instagram at @menopause_doctor and for more information on menopause and the workplace click here. Many thanks also to Sarah Syson, associate director of design at Claremont office interior designers, and to Dee Murray, CEO of Menopause Experts Group.
Find more content on menopause at work here.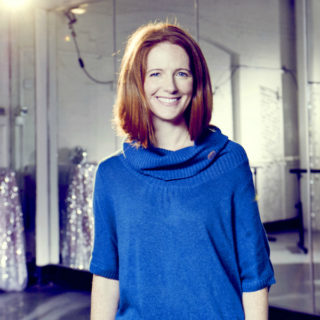 Sophie Barton is our Features Editor. She a journalist and editor with 20 years' experience in the national media, specialising in wellbeing and lifestyle.