Over the past few weeks, our work and home lives have been turned upside down by the Covid-19 pandemic. Alongside anxieties over our jobs, health and finances, many of us are juggling family demands or home schooling with day jobs and deadlines.
"We're living in incredibly challenging times, and our mental health is one of the main things to get hit," says Dr Rangan Chatterjee, who is the resident doctor on BBC Breakfast and a bestselling author.
"The situation is particularly hard for women, because if both parents are working it still often falls to mum to care for the children. And if you're stressed out with a work deadline too, it's easy to put that stress onto the kids.
"On top of everything else, a lot of the things we normally do to manage our stress levels – like going out for a coffee – aren't feasible. It's more important than ever to look after ourselves."
To manage your stress levels and stay as clear-headed as possible, Dr Chatterjee recommends maintaining your normal morning routine. And when you're working from home, schedule an all-important lunch break.
"Write down what your day will look like," he says. "If you would normally have a shower and get changed before starting work, do the same thing. If you stay in your pyjamas watching the news instead, you'll start out in a stressed way, which will continue all day.
"A tech-free lunch break also one of the most impactful things you can do. Turn off your computer and don't look at your phone. This doesn't just reduce stress, it also makes you more productive when you come back to your desk. When you switch off, the part of your brain that helps you solve problems and be more creative goes into overdrive. That's why so many people come up with their best ideas when they are out for a walk."
And within public guidelines, get outside every day. "We all need light exposure and if you're indoors all day, you're simply not getting it," says Dr Chatterjee. "Being outside lowers your stress levels and helps you sleep well, which in turn supports your immune system and makes you less emotionally volatile."
To help you keep your cool over the weeks and months ahead, Dr Chatterjee recommends sticking to his Feel Better in 5 approach, which means incorporating three five-minute activities into your daily routine. One is focused on calming your mind, one on nourishing your emotional wellbeing (or heart) and one on boosting your physical health.
"You're better off doing small things regularly, because it's sustainable," he says. "If you pay attention to those three key areas, it'll help keep you calm."
Lower your stress levels and boost your productivity with these five-minute activities below. You can find more in Dr Chatterjee's book, Feel Better in 5. 
Look after your mind  
"Before you start work, have your morning cup of tea in the garden or by a window, and look outside while you drink it," says Dr Chatterjee. "Don't drink it while looking at your laptop and reading about how many people are suffering with Coronavirus. Schedule your news time too, and try not to watch it more than once or twice a day. That's all you need to stay updated."
Look after your heart
"Nourishing our hearts is arguably the most important thing at the moment, because we're feeling isolated and distant," says Dr Chatterjee. "Phone a different friend each day, or reconnect with someone by sending them a voice message or nice text. Kindness is contagious too – if you do just one kind act each day, it can have a huge knock-on effect."
Look after your body
Dr Chatterjee recommends getting your blood pumping with short bursts of exercise. Try doing sumo squats (see below), pushing yourself as hard as you can for 20 seconds. Stop for 40 seconds and repeat five times.
To do the squats, stand with your feet a bit wider than hip width apart and turned out a little. Bend your knees and lower your body down as if sitting in a chair behind you. Feel your weight go into your heels. Keep going down as far as you can and stop if you manage to get your thigh parallel to the ground.
For more content on how to protect your mental health in lockdown , click here. 
---
You'll more great advice in Feel Better in 5: Your Daily Plan to Feel Great for Life by Dr Rangan Chatterjee (Penguin Life). It's available now on Amazon.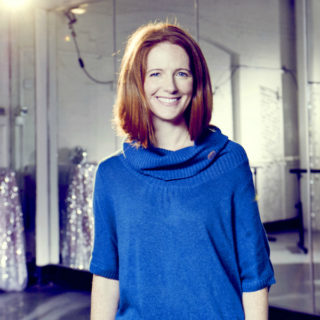 Sophie Barton is our Features Editor. She a journalist and editor with 20 years' experience in the national media, specialising in wellbeing and lifestyle.