With stress levels soaring on a global scale, there's never been a more critical time to address our wellbeing. But improving our physical and mental health doesn't have to mean making seismic lifestyle changes. In fact, Dr Rangan Chatterjee believes the answer lies in incorporating three easy, healthy habits into our daily lives, whether at home, at work, or even during our commute.
"This approach will make you more resilient to stress," the bestselling author tells Work in Mind. "It will not only have you feeling better within days, it will lead to meaningful and long-lasting change. All it asks for is five minutes of your time, three times a day, just five days a week."
Micro changes, macro results
Dr Chatterjee's new book, Feel Better in 5, is packed with over 30 of his specially-designed health habits to choose from. Critically, each activity is quick, free and easy to anchor around our working lives, whatever our hours and commitments. Yet when combined, they have the ability to transform our wellbeing on a macro scale.
Activities range from calming breathing exercises, to "desk jockey" workouts, designed to ease the shoulder stiffness that often comes from staring at a screen. Other tips are as simple as taking five minutes out to chat to a friend, or enjoying your cup of tea in the fresh air, instead of indoors. Studies show that spending time in nature lowers our levels of stress hormone, cortisol, and can increase our attention span and focus too.
"One of our big problems now is that the line between work and home life is blurred," explains Dr Chatterjee, who is the resident BBC Breakfast doctor and presenter of TV show, Doctor in the House. "For example, if we commute by train we're often trying to get ahead, by answering emails. Instead, get into the habit of using your commute to relax you.
"Try listening to an inspiring podcast or relaxing music, or get the Headspace or Calm app on your phone. Perhaps try a worry journal, which means literally transferring your worries out of your head onto paper. The trick is to make it easy – have your journal and pen in your work bag, so when you get onto the train you don't have a reason not to do it. If you use that time before and after work to unwind, you'll be in the best possible state for your family or friends when you get home."
A rounded approach
So, why three activities per day? The key to long-lasting wellbeing, explains Dr Chatterjee, lies in taking a rounded approach. This means choosing one daily activity that's designed to bolster our mental health, one focused on boosting our physical health and one that supports our emotional wellbeing, by improving our personal connection with our colleagues, friends or family.
By tackling our wellbeing from every angle, we lower our stress levels and also reduce the knock-on impact it has on our diet, sleep and personal happiness. The result? A happy circle, which involves increased productivity, better sleep and less stress.
"Think about what stress does to your body," explains Dr Chatterjee, keen to illustrate this point. "The stress response primes you for physical activity, because it was designed to help you run away from predators. But in today's world, we're getting stressed-out by our email inbox, which means our body is being primed for activity, yet we're still sitting on our bottoms. Burning off that stress energy is the best thing you can do, but it doesn't need to involve a trip to the gym. It could mean doing a short yoga flow, or a five-minute high intensity workout."
But calming "mind" habits are also just as important for stress reduction. "Moving your body every day is one of the best ways to de-stress, but a lot of people are also stressed because of the worries they have on their mind," he adds. "That's why I passionately believe that spending five minutes on your mind each day can help too, whether that's downloading your anxieties onto a piece of paper, or doing a breathing exercise."
Tricking the brain
In fact, breathing exercises are something he often advocates when advising businesses on how to improve staff wellbeing.
"Breathing is the fastest way to lower your stress levels," he explains. "When you've got a deadline or you're working hard, your breathing will change without you realising. It'll become faster and shallower, which in turn sends messages to your brain, saying you're in danger. That then becomes a feed-forward cycle.
"But by consciously slowing down your breathing and breathing in for three, holding for four and breathing out for five, you literally trick your brain into thinking everything is calm. I often recommend that businesses start team meetings with one minute of this three, four, five breathing – you'll all be much more productive and engaged."
Dr Chatterjee firmly believes that his Feel Better in 5 approach can have wide-ranging benefits not just for the workforce, but for the businesses they work for too.
He says, "I want to see all businesses introduce the programme – it would transform them. It's also accessible to all companies, whether they are affluent or not. It would increase productivity too, because when you feel valued as an employee, you give more to your company. Of course, businesses will say they are busy, but nobody can argue they don't have five minutes."
Leading from the top
However, he is quick to add that in order to be a success in the workplace, it's vital that this ethos is supported by those at management level.
"It's got to be set by example, because people have to buy into it and believe the company is serious about it," he explains. "The wellbeing of your staff isn't about fancy gym memberships, it's about the culture. Management have a huge role to play here – people might like the idea of taking five minutes out to do a quick de-stressing workout, but if they are worried that they'll be seen as slacking off, they might not do it.
"Employers need to encourage staff to take five minutes out, which might just mean having a cup of tea with the team and not talking about work. I honestly believe that if every person in the UK followed the Feel Better in 5 ethos, we'd have a happier, healthier society. It's that simple."
To find more content from Dr Rangan Chatterjee on how to be less stressed, click here.
---
Dr Rangan Chatterjee's Feel Better in 5, published by Penguin Life, is out now. Dr Chatterjee is also host of the 'Feel Better, Live More' podcast. 
Image credit: Justine Stodd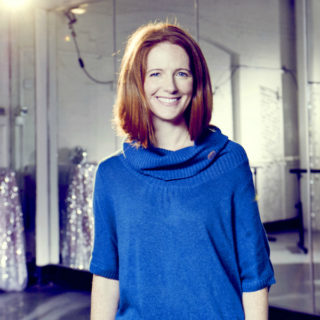 Sophie Barton is our Features Editor. She a journalist and editor with 20 years' experience in the national media, specialising in wellbeing and lifestyle.