Over our lifetime we devote an average of 90,000 hours to our jobs, yet often we don't question the impact our physical work environment has on our wellbeing. Imagine though, the benefits to our mental and physical health if those hours are spent in a well-lit, temperate, human-centric space. Doubtless, we'll all be more positive, proactive and productive.
This is the message behind new website, Work in Mind. Launched by award-winning communications consultant Joanna Watchman, Work in Mind is set to become a powerful online community, publishing content about our interaction with the environment in which we work, live and learn.
Buildings for people
Joanna, who is the founder of leading B2B communications consultancy Content Coms, says, "Over the last few years, we've made phenomenal strides in our thinking about how we can use technology to optimise our environment to benefit the people within it, whether that's a child learning at school, someone sitting in an office or a medic in a hospital.
We need to look at optimising buildings through the prism of sustainability.
"My own expertise – which includes many years working with global brands such as Siemens on industrial energy efficiency and smart home technology – gave me an unusual grounding in promoting messages around making buildings more intelligent, greener and optimised
"We need to look at optimising buildings through the prism of sustainability. If you embed sustainability into your environment with better heating and lighting, a major by-product is that the buildings become better, healthier places for people to work. That's irrespective of whether you're talking about a glamorous London office, or a factory."
A brave move
Joanna was inspired to launch Work in Mind after moving the Content Coms HQ from inner city Bristol to the Glove Factory Studios, in rural Holt, Wiltshire. The bold decision quickly paid dividends, on both a business and wellbeing front. Instead of an arduous commute to an inner city hub, the team sit at desks with views across green fields, dotted with lakes. Natural light streams in through vast windows, fuelling productivity.
We need to look at optimising buildings through the prism of sustainability.
Joanna says, "Each year we put a percentage of our profits towards CSR, and after our move it felt fitting to promote workplace wellbeing. We started to think through ideas for projects that would help push out the message that buildings and workplaces can be healthier, if only people will invest in the technology and thinking in the first place."
Community driven content
And so Work in Mind was born.
"We're creating an online resource, not a magazine," says Joanna. "Work in Mind is a community-driven content platform. I want to bring together everyone from employers, to employees, designers, architects, thought-leaders and building operators.
"We're encouraging them to share ideas, resources and research, so those driving a change in their own environment have the information and arguments they need at their fingertips.
"We want to help those on the front line, such as architects, build a business case for persuading their clients to invest in the built environment. After all, investing in buildings is investing in the wellbeing of those who use them." 
Millennial expectations
Joanna adds that the attitude of the millennial generation is another game changer, forcing a shift in our thinking about workplace wellbeing.
"We're no longer in the dark ages – people today expect so much more from their place of work. That means employers everywhere, from small-scale industrial settings to the commercial sphere, need to wake up and smell the coffee.
"By putting the money in at the embryonic stages, we can create workplaces where productivity flourishes and retention increases, with a significant benefit to turnover. If that sounds crazy, consider the latest research on workplace wellbeing, by the British Council of Offices. It reveals that a staggering 1 in 6 workers believe their office is having a detrimental effect on their health and wellbeing."
Importantly, Work in Mind also addresses the non-commercial workspace, which is rarely touched on.
Work in Mind embraces everyone's work environment
"Work in Mind embraces everyone's work environment, from the midwife delivering babies in hospital, to those working the night shift in a factory," says Joanna.
"The community launches in early September, without commercial purpose but with the aim of making positive change. We'd love to hear from anybody who is interested in being involved and have already had a staggering amount of interest, which can only lead me to think that there's a real need for this."
If you're interested in finding out more about Joanna's work in the field of healthy buildings – then take a look at www.joannawatchman.com.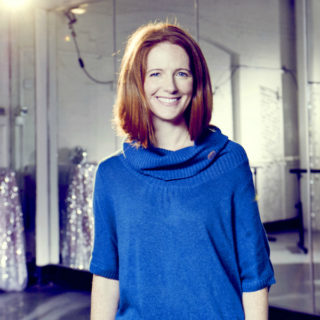 Sophie Barton is our Features Editor. She a journalist and editor with 20 years' experience in the national media, specialising in wellbeing and lifestyle.