Current technological developments are transforming the way in which we use our physical workspace. Throughout almost the entirety of the 20th century, the workplace was a static and confined physical working space. Employees were obliged to be present for a fixed number of hours and work was constrained between four walls.
Adapt or die
Online communication and data sharing tools such as Skype and cloud-based services have enabled people to work from anywhere in the world, ultimately blurring the lines between working hours and personal time. In fact, according to a survey conducted by tech pioneer Samsung in 2014, nearly one third of their interviewees would prefer the option of flexible working over a pay rise.[1] This is a fascinating realisation that business owners need to recognise, acknowledge and address – regardless of size or capabilities. In order to retain the best talents, companies need to adapt to the changing face of the workplace.
We predict instead a greater emphasis on technologies that maximise the efficiency of work.
Whilst some commentators have been quick to predict the disappearance of physical workspaces altogether, a purely digital workplace would struggle to replicate the benefits of face-to-face collaboration. We predict instead a greater emphasis on technologies that maximise the efficiency of work, either in offices or in remote locations, as well as maximising the workspace experience of employees.
The rise of internet 'smart assistants' harnessing AI technology indicates that the Internet of Things is being increasingly used to enhance personal productivity and balance personal and professional life. With rising demand for flexible working, the demand for automatic tools supporting us to fit work into our personal schedule will also increase. However, this transformation will need to be matched by developments in data management and security.
For automated assistants and dashboards to really be effective, more data about personal behaviour and lifestyle will need to be collected from an even greater number of connected devices. Storing this data and keeping it secure (as well as managing regulatory requirements) is a significant challenge in its own right. This, in turn, will have a profound impact on the use of physical space with global demand for data centres and cloud storage facilities. The International Data Corporation projects that our digital universe will hit 44 trillion gigabytes by 2020, reflecting growing data usage globally. Successful markets will rely more and more on secure and reliable data infrastructure and the best of data storage technology, such as the Kao Data (a Goldacre portfolio company) centre servicing London, allows for massive scalability so that AI tools can harness big data and offer personalised insights to increasing numbers of consumers.
Despite these developments, the physical workspace is not going anywhere and will remain a vital hub for collaboration. The modern office, however, must continue to evolve in order to stay relevant.
Appealing to millennials
Digitally-enabled offices that promote and support creative collaboration are already a significant draw to millennials. In a recent workforce study by Penn Schoen Berland, 82% of 18-34 year-olds stated that a tech-enabled office would influence their decision to take a new job[2]. In 2016, Goldacre invested in Techspace, a co-working company that delivers space as a service to tech companies planning to scale up. Techspace supports the growth of tech ecosystems in London and Berlin by providing emerging tech businesses with flexible workspaces that foster creativity and diversity. The growth of Techspace across Europe rests on outstanding digital connectivity, providing tech companies with all the tools required to be agile and constantly connected with international stakeholders.
A recent workforce study found 82% of 18-34 year-olds stated that a tech-enabled office would influence their decision to take a new job
Technology is no longer just stored in the workplace, the workplace is becoming a technological product itself. At Goldacre, we are particularly interested in how sensors can predict how spaces are being used. Understanding space utilisation in real-time could inform data-driven insights to help enhance physical workspaces to promote creativity and well-being. In the era of big data, we are confident that we have only witnessed the first wave of the smart office.
Enjoyed this article? Find more articles on productivity here. 
---
Goldacre is an innovative family office investment house, which specialises in supporting early-stage technology-led businesses working with the built environment to scale up through strategic investment, advice and management. As part of the Noé Group, it leverages the scale of a £2bn asset management business with the nimbleness of a boutique. Goldacre's portfolio spans the UK, Europe and Israel.
Authored by David Bloom, Partner at Goldacre, and Fionnuala Hogan, Head of Relab, Goldacre's Real Estate Tech Accelerator
Curated by Goldacre, RElab is a mentor-led accelerator programme giving real estate tech start-ups the opportunity to validate their products, pilot innovations in the built environment and pitch for investment.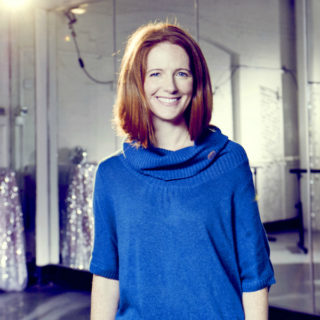 Sophie Barton is our Features Editor. She a journalist and editor with 20 years' experience in the national media, specialising in wellbeing and lifestyle.