The way we work is changing fast, reflecting the seismic shifts taking place in the wider world, particularly those driven by technological advances and new-generational expectations.
Positive workspace management sees company owners and Facilities Managers increasingly focused on staff wellbeing, biophilic surroundings, sustainable buildings, flexible working patterns, zonal workspace arrangements to allow for different moods and paces and the integration of experiential and social aspects into our working lives. No longer is it a cause for concern if the manager calls you to a meeting in the atrium tree house!
The technological revolution
Technology has, of course, been the biggest driver in our ability to work more flexibly. Individual desktop computers, when they first arrived, were so cumbersome that staff's physical mobility within the working day, bar going to the meeting room, kitchen, bathroom or out for lunch, was out of the question. It was the advent of lightweight laptops, tablets and smart phones that paved the way to the flexible work world we see today.
For those planning a new workspace right now, either as a proprietor or architect/designer, it's imperative to consider and incorporate these new ways of working and allow your team to individualise the way they work as much as possible. But you also need to future-proof the space you're investing in.
Fads versus flexibility
Will you follow every whim, from downtime ping-pong tournaments and in-house yoga studios, to cafés with rows of juicing machines? All in the hope of attracting a new generation bred on immediacy, accustomed to using apps to order food, download music, edit photos, book taxis and keep their health in check. But what happens if the latest trend is obsolete by the time you're on site? It's wiser perhaps to plan for the longer term through the introduction of multi-use spaces, whose function can change according to need and where different moods and varying levels of enclosure can ensure ongoing flexibility.
Art and atmosphere
If you create different zones in this way, how can you guide people towards different uses within them and subtly set the right tone? Art is a highly useful tool for helping designers and end-users build in this kind of flexibility. It enables you to guide users towards a particular state of mind or appropriate usage for that space, taking away the need for more heavy-handed methods, such as signage.
A quiet area, for example, could be signalled by abstract art with calming tones or art with a strong outside-in natural theme. Meeting areas might house works that activate conversation or embody sharp wit.
A lobby could be the perfect place to house a sculpture with a narrative that underpins the company's character, or which conveys brand values or the attitude and messaging the company wishes to express to its visitors.
Ringing the changes
In the new 'rent not buy' age, the introduction of a rotating artwork collection (eg on a 6-monthly basis) can also form part of an art strategy that initiates changes in the office environment, by disrupting aesthetics, sparking debate and transporting people elsewhere.
A rotating art collection also gives owners the cost-effective ability to re-purpose or refresh a particular section or aspect of an office, without undergoing a full redesign.
Artworks can spark internal or external creative and cultural event programmes, which also feed into the well-being requirements companies need to fulfil. When it comes to placemaking, art can help again by creating connections between companies and their local environments, through the commission or curation of the work by local artists.
Art as empowerment
However much we are on the move right now in our working lives, art can also speak to our territorial urges and bring a sense of ownership and location, which might otherwise be lost. We have devised a bespoke voting tool for our clients' teams, so that staff can vote for and choose the art they see on their walls themselves, empowering staff to take control of their immediate environment.
Incorporating artwork into a flexible working environment is a way to help support the arts and creative industries, plus it gives companies the status of 'patrons of the arts'. It represents both a creative distraction and the chance to engage both staff and clients, enabling them to discuss something out of their realm and to think outside of the literal four walls they find themselves in.
Art creates links with the outside world and feeds into the importance of culture in the workplace, improving employee wellbeing and subtly aiding the fluidity of movement and flexibility of purpose office managers need to achieve. 
Enjoyed this article? Find more inspiring articles on the workplace here. 
---
Frankie Burgess is a Senior Art Consultant at leading British art consultants ARTIQ, specialising in the workplace sector. www.artiq.co
 *Images supplied by Artiq.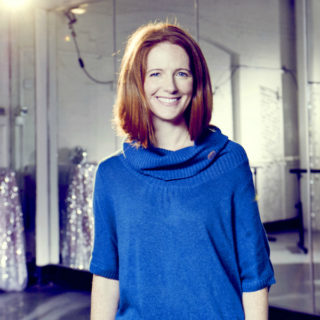 Sophie Barton is our Features Editor. She a journalist and editor with 20 years' experience in the national media, specialising in wellbeing and lifestyle.